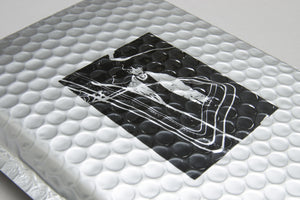 AVANT LA VAGUE, DAHO 78/81 (Special edition)
Étienne Daho, Pierre René-Worms
Collector edition of the book
Black and white silkscreened enveloppe
Facsimile of 3 photographs of Etienne Daho et cie.
Facsimile of Lyrics hand written by Etienne Daho
Silkscreened pin written "E.D jr"
Regular Edition here
Before the wave, at the turn of the Eighties.  Etienne Daho was still a young man from Rennes, leading an almost ordinary life. A rock'n'roll enfant terrible, half an angel, half a punk, trying everything he can to organize a Stinky Toys concert in his town. The show led to months of debt, but Daho bonded with the legendary duo Elli and Jacno. A couple of years later, Jacno himself produced his album Mythomane. It was the end of an underground scene he had only briefly tasted. Including timely photographs by Pierre René-Worms and by close relations of the singer, as well as flyers, posters, newspaper cuttings, notebooks, and a text by Sylvie Coma, the book gives a glimpse on the singer's intimate life during a critical period of his career. It also captures a snapshot in time: the era of the jeunes gens modernes, the "modern young things" of French new wave and post-punk.